Nitty-Gritty Guide to ATX Home Buying V2.0
My goal with this guide is to basically enable you to be your own realtor for the ATX area.
Most realtors here don't know shit, and this is a crazy seller's market, and I've had to figure out everything on my own- and I want to share everything I'm learning with you. (And guess what? Realtors/Brokers are NOT legally required in Texas!)
This guide will enable you to think like an investor when it comes to buying your property. (Except, unless you're able to pay cash, the investors will almost always win in this market).
How do you win over the investors?
find stuff before it hits the market in any way, shape or form.
(go into how to do this)
have cash/be able to pay cash
that's about it.
I'm publishing this guide before it's complete, and I'll be updating it regularly until I either a) have all the information I need or b) purchase a house.
If this is useful to you, you can thank me by grabbing tacos with me; I'm new to town and looking for friends! Tweet me and let's become friends. :D
See a section you know more about than me? Tweet me and I'll add it to this guide and credit you. :)
Note: I am not a realtor or any housing professional. I'm just a young woman looking to buy her first home with the intention of selling it at a higher price later on.
---
TOPICS
GENERAL THINGS TO KNOW
Picking a Neighborhood
Central-TX related Issues
Lender/Realtor Recommendations
Austin Property Taxes
Loans
Zoning
Fuck Realtors: Making an offer without them
How to find out who owns the house right now
TX Contract for an offer on a home
Under Contract House Hacks
re-plotting(?) your house before it closes
WANT TO BUILD ON YOUR LOT?
Lot Sizes and why they matter
Floor-to-Area ratio
Protected Trees
Impervious cover regulations
---
GENERAL THINGS TO KNOW
How do I pick a neighborhood?
Hoodmaps: a crowdsourced stereotype map of Austin to get you started
Any Central-TX related Issues to Watch for?
Flood zones are one. Here's a flood zone map.
Termites are another- make sure this is part of your inspection before buying a home.
Hail damage: "it doesn't happen often, but my sister just bought a house and got the seller to pay for a new roof via an old insurance claim!" -John Elam
Foundation issues East of I35: the soil East of I35 has a lot of clay in it, which shrinks and grows, and can cause foundation issues in homes.
Noise Levels: Here's a handy map of transportation-related noise. Put in your address to see noise levels there! Yellows are okay, but medium to dark reds become noticeable. (thanks for the tip, Matt!)
Got any realtor/lender recommendations?
Lender: Dave Burness! I've talked to a few realtors and got the sense that they hated their lives and were counting down the days 'till retirement, but Dave seems genuinely passionate about lending and has been SO much more helpful than anyone else I've talked to.
M 512.402.3030
D 737.717.0684
F 205.594.6423
W https://crosscountrymortgage.com/Dave-Burness
E dave.burness@myccmortgage.com
Property taxes in Austin
Some sites can be misleading and you'll end up paying more than you think you will. There's the city taxes, then the school district taxes, then neighborhood taxes... they all add up and it can be brutal.
Ryan Jones recommends you go to TCAD (Texas Central Appraisal district) and look up the property you're interested in and see the taxes they paid recently. This will give you a good idea of what you'll pay if you buy that property.
He also says, "Also, assume 2.75% and call that good enough, and don't believe everyone who tells you it is less because they have an interest in you buying"
Loans
FHA Loans:
These have worse rates than a normal loan?
can put as little as 3.5% down with min credit score of 580?
Conventional Loans:
must have a better credit score (620 or higher?)
as little as 3% down?
Jumbo Loans
What they are: if your home costs over a certain amount, you have to put down either 15 or 20%. The limit before you hit a jumbo loan amount varies by state and county.
Loan Limits before it becomes a Jumbo Loan (2020 data, Travis County):
$510K for a single family home (I also heard 400-something? Ask your lender)
$518K for a duplex
$626K for a triplex
$778K for a fourplex
Zoning
FYI, AUSTIN IS CONSIDERING TOTALLY RE-DOING THEIR ZONING. Check out a sneak peak here.
Here's a really intense chart showing what you can build on each zone. Here's a list zones and what they entail.
When you find a home or a lot you're interested in, go here to find the specific zone for any lot in ATX- I highly recommend this as there may be weird lot overlays like airport zone, NP (neighborhood plan), etc) that effect what you can build there.
Zone changes can change it all
If you're looking to buy in an up-and-coming neighborhood, always check out the zoning in that neighborhood and see if there's anything that is up for review with the Austin City Council. You can google 'zoning changes Austin City Council.' This legit made me change the neighborhood I was looking to buy in, so don't disregard it.
Zones
F-1 Single Family Residence - Large Lot
min 10,000 sqft
only allows single-family residential
SF-2 Single Family Residence - Standard Lot
min 5,750 sqft
only allows single-family residential use
SF-3 Family Residence
min 5750 sqft
single-family residential use and a duplex use
A duplex use that is designated as an SF-3 district is subject to development standards that maintain single-family neighborhood characteristics.
SF-4A Single Family Residence - Small Lot (min 10,000 sqft)
3,600 sqft
single-family residential use
SF-4B Single Family Residence - Condominium
single-family residential use on a site surrounded by existing structures, most of which are single-family residences
An SF-4B district use is subject to development standards that maintain single family neighborhood characteristics.
SF-4B district designation may only be applied to a use at a proposed location if the existing use at the location is designated as an urban family (SF-5) or less restrictive district
SF-5 Urban Family Residence
single-family residential
5,750 sqft
duplex, two-family, townhouse, or condominium residential use
SF-6 Townhouse & Condominium Residence
single family, duplex, two-family, townhouse, and condominium
MF Zoning: Goes from MF-1 Multi-Family Residence - Limited Density to MF-6 Multi-Family Residence - Highest Density
---
READY TO MAKE AN OFFER?
FUCK REALTORS
I know, it's harsh, but really. You're going to do all of the work anyway. Take the 6% that a realtor would make on seller's closing costs, and use it to negotiate a lower price.
TX Residential Contracts (so you can do it yourself)
NOTE: Some of these forms can only be used by realtors. If you want to go without a realtor, I recommend chatting with Boris at Title Butler on what forms you can use. He's as anti-realtor as I am and super friggin' knowledgeable (dude is a machine-learning engineer on the side; you won't find anyone smarter) who started his own title company. Personal long-time friend too, he's a good guy.
One to Four Family Residential Contract (Resale): Here you go. You're welcome. :)
For all other TX residential contracts, go here.
Important parts of the contract: options period (10-14 days ideal), earnest fee, that cost to back out during the options period... (fill this in later)
How to find out who owns the house right now
It's easy! Go to your County Central Appraisal District (CAD) site and look up your property's address. Travis County CAD is here.
This search will tell you who owns the house, exactly what they're paying in taxes, when the house was built, any improvements they've made to the building and when, and if the house has changed hands since it was built. Super cool stuff!
Check to see if your house is an Airbnb
Just go to Airbnb, make sure it's set for any date range (this will show you all active listings) and zoom in on the area where your house is.
I found out that the house I want to buy is an Airbnb, and that gave me a leg up because there were over 50 people who reviewed the house I want to purchase! I learned about some potential expenses down the road and some issues I'd have to deal with when/if I bought the house.
---
Under Contract House Hacks (before Closing)
re-platting(?) your home while it's under contract
Split it into two lots if it's large enough, and put the loan on the one with the structures so you actually just outright own the second lot and can sell it at any time.
---
WANT TO TEAR DOWN AND REBUILD?
Lot Sizes
If you want to rebuild, stay over 5,750 ft²
If you want to tear down and rebuild, Austin has a minimum lot size 5,750sf.
Anything below that, and you'll have to fight the local govt. to be able to rebuild on that lot. Having talked to folks who have done this, it's a nightmare and you want to avoid this if you can. Major remodels also fall into this category (as far as I can tell from my research).
Some neighborhoods allow you to build on smaller lots
But wait! There's another option available called Small Lot Amnesty that will allow you to build on lots smaller than 5,750 ft². The minimum lot size varies (see permits section below). I'm seeing though, that "special site development standards would apply to ensure new homes are compatible with existing homes." (WHAT DOES THIS MEAN)
Which homes qualify?
"Eligible lots must have been legally platted to begin with. Such lots would most likely have been part of a larger viable land plan that met Austin's code when created." (source)
So what does this mean? In 1946, Austin increased the minimum lot size to 5,750 (lots used to be a minimum of 3,00sf). Austin had already planned out some neighborhoods at that time, and this now required them to use two lots for one home. If you live in one of those pre-1946 neighborhoods, you can take those original lots (which are two lots in one) and split them back into their original, pre-1946 lots and then build on each of those lots. If you drive through the Bouldin Creek neighborhood, you can see tons of "A" and "B" addresses where the owner split a lot in half and built a new home on the unused lot and sold it.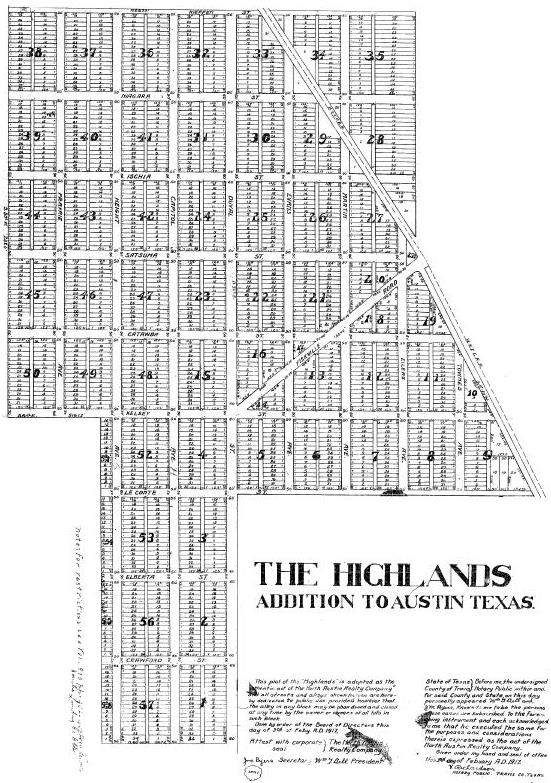 Which neighborhoods allow Small Lot Amnesty?
This map will show you which neighborhoods (the ones shaded in blue) allow you to build on lots smaller than 5,750 sqft.
Permits within Small Lot Amnesty
This changes w/ the neighborhood- go here to look up yours.
Some neighborhoods will allow for different types of housing, such as secondary Apartments, Urban Homes, Cottages, and more. They change and their design specifications change based on the neighborhood you want to buy in.
This document has a nice chart of which permits are allowed for each specific Austin neighborhood.
Substandard Lots?
"Substandard lots are exemptions from the minimum lot size requirement altogether. These lots are not required to have been legally platted."
Tbh I'm not sure what this means for a homebuyer and the information I can find makes it sound like there are a lot of regulations for building on this type of lot (though I may be wrong).
How far away from the property line can you build a house?
This depends on the neighborhood, but many neighborhoods have specific regulations that may force you to set your home back a good amount. This is important to know in case you're planning on expanding an existing house, or you want to build two homes on one lot (this will decrease the lot size you have to play with).
FAR, or Floor-to-Area Ratio
"This is the amount of building the city will let you have on a lot after all other setback and impervious restrictions are met." (source)
This changes based on the neighborhood, if you have any protected trees near a potential home, and other variables. An example: I called about a lot with 4500 square feet and the FAR was 1800 sqft (according to the realtor).

"FAR measures the square footage of a building relative to the amount of land on which it sits . The City of Austin defines FAR as the ratio of the gross floor area (total square footage of building on all floors with some exceptions naturally) to the gross site area (total square footage of lot). For example, if a home is 4,000 square feet in size and the size of the lot is 10,000 square feet, the FAR is 4,000 divided by 10,000, which is equal to 0.40." Most residential zoning in Austin has an FAR of .4, this is determined by your lots zoning and any affecting overlays in the area. The city has an online calculator you can use here. (source)
What's with Impervious Cover?
If you've been driving around Austin and you keep noticing that the driveways to fancy homes are just two strips of paved parts with gravel or grass in-between, it's because they're trying to avoid having more impervious cover on their lots.
In ATX, we have these weird hippie impervious cover restrictions. You get charged by the amount of it you have, and it's called a 'drainage charge'.

"Impervious cover is any type of human-made surface that doesn't absorb rainfall, including: rooftops, patios, driveways, paved and unpaved, sidewalks, roadways, parking lots, paved and unpaved, and some decks. Uncovered wooden decks and unpaved portions of driveways count as 50% impervious cover." (source)
"Your drainage charge is based upon the amount and percent of impervious cover at your address. The Watershed Protection Department gets this information through a combination of aerial photography, LIDAR data and development records. We review and update our data on an ongoing basis as more information becomes available."
"Dependent on zoning designation, a certain percentage of impervious cover is permitted on a property." (source) This is 45% of the total lot size in most neighborhoods. They recommend you talk to a reviewer about this, but they have a calculation spreadsheet to help you.
Are tax rates different on ADUs?
explain what ADUs are
I think so... ask Austin Stowell about this (and link him here).
What about trees on the property?
Debt-to-income ratio
aka, buy in Round Rock and have the mortgage pay for itself
What about the habitable attic loophole?
Here's some info: basically, there are two-story restrictions on some ADU (accessory dwelling units aka airbnb dwellings) and some other kinds of properties... but these DO allow a habitable attic. I know one person who has three bedrooms in his 'attic' to be able to have more square footage legally.
---
PS- If this was useful to you, you can thank me by grabbing tacos with me; I'm new to town and looking for friends! Tweet me and let's become friends. :D
PPS- See a blank area you know more about than me? Tweet me and I'll add it to this guide and credit you. :)