Elements of a Phenomenal Pitch w/ McConaughey
Matthew McConaughey hosted a fundraiser to help with TX storm disaster relief, and DAMN his speech writer like... hi, marry me. It's brilliantly written and is a superb example of how to pitch someone, so I'm sharing the vid and breaking it down for you.
Click on the vid and watch his opening bit- it's so well crafted!!!
TLDR:
Start with an emotional connection (before stating the problem or the solution)
State the problem (before the solution)
Add emotional contrast to keep people's attention
Pitch an emotion as the solution
Address opposition up front
A very clear CTA
---
Start with an emotional connection (before stating the problem or the solution)
His goal is for you to give money to the fundraiser right?
But look how he starts his pitch.
"Tonight, we are going to share with you songs, stories, and traditions that define the DNA of this state that so many of us call home."
Doesn't mention giving at all, does he? He's starting with emotions.
Tonight, we're going to you show the soul of Texas.
Once he hits that chord, he says, "tonight is about generosity, so I want to thank you all for being here. Let me tell you a little bit about Texas." Notice that he does mention the giving, but then gets right back into the emotional pull.
Not only does he go into a beautiful speech about the heart of Texas, he does it in a very Texan way. Everything from his big belt buckle and boots, to his accent, to the informal, southern words peppered throughout his sentences, to the background music, screams Texan pride!
Then they briefly show his wife. This pulls at the heartstrings too. You remember your own family, and connect to the families that are suffering that need your money.
State the problem (before the solution)
ALWAYS start with a problem before you mention the solution folks- this is because psychologically, we respond to problems more than solutions.
Add emotional contrast to keep people's attention
It gets pretty sad but he adds with a chuckle "You could say in Texas we're a little bit better at dealing with the heat, than with a freeze."
The best stories/pitches always give you emotional contrast, even in the same scene, and in this part, he's giving you that- adding humor in a dark sad part of the pitch, which keeps you interested. Our brains respond to contrast, and changing the emotional tone keeps an audience's attention.
Then he hits you with the facts: $195B in damages... this part could get boring but look what he does here: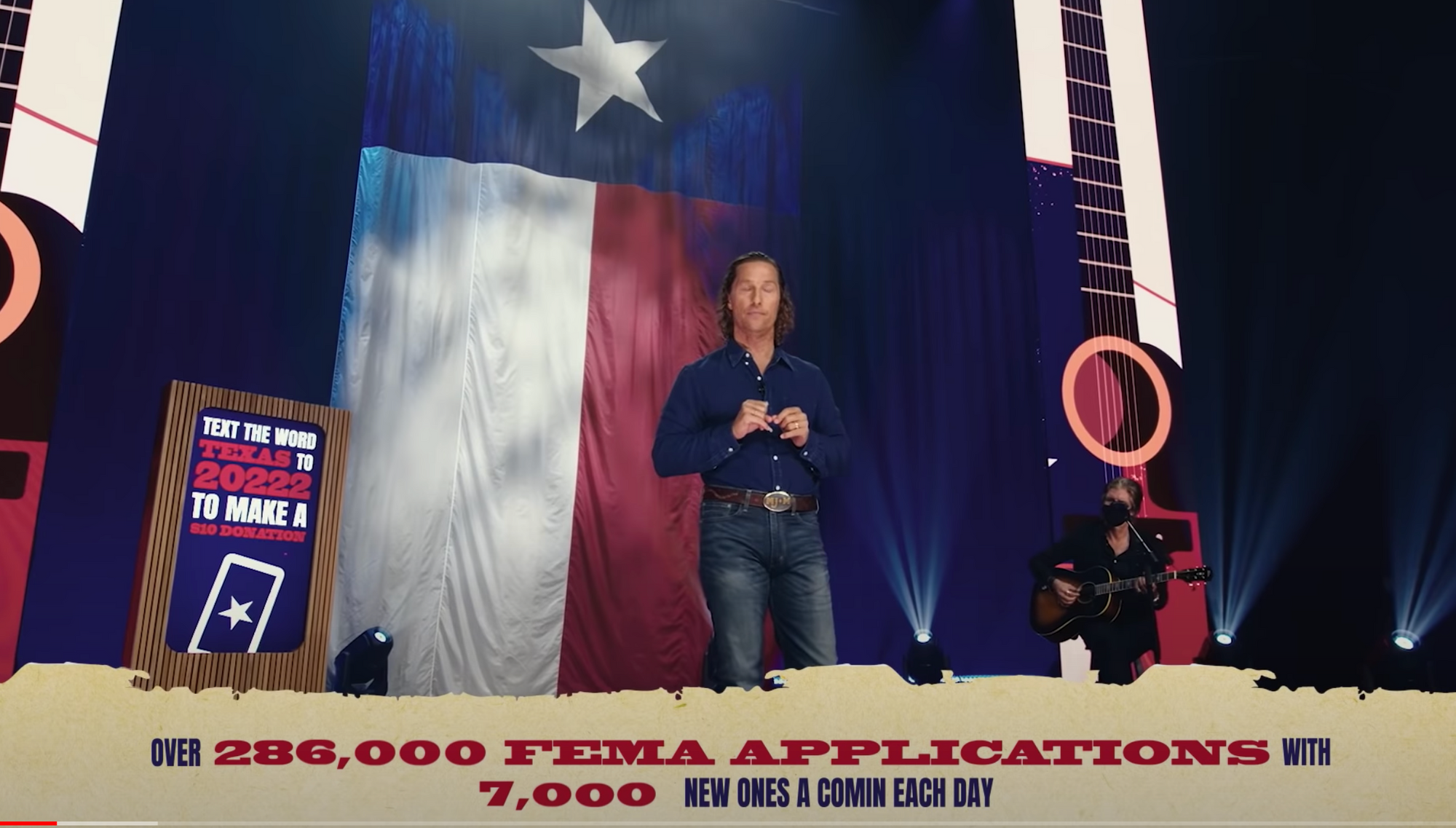 With 7,000 new ones A COMIN' each day. Even in the 'dry numbers' part, he's still putting in Texas colloquialisms.
He keeps up the Texan theme throughout. "It's time to start two-steppin' in the direction of hope."
Pitch an emotion as the solution
Then he goes back to emotions!
He ties in a core TX value, freedom, with the benefit of giving- you are giving that Texan freedom back to thousands of people who don't have it due to the storm.
This ALSO ties back to the very beginning of his speech when he says, 'and signatures on our own constitutions.' This refers back to when TX was literally its own country before it became part of the USA, and is stirring up that feeling of freedom before he even gets into that part of his pitch! Brilliant.
Address opposition up front
The main opposition for people giving is that the storm got super political.
He also sets up the stage for overcoming this objection at the very beginning, before the audience even is aware of it.
"They call us the friendly state 'cause, we believe in the golden rule. We like our sunrises and our sunsets, and we reckon that each and every one of us ought to see plenty of both. We're a blend of valor and swagger, full of renegades and trailblazers, buttoned-up ties and long-lost raisers."
This is already softening you, no matter which end of the political spectrum you lean. Without you even knowing it, you're becoming more amenable to giving, despite your political stance.
Later in the speech, he addresses it directly. "Let's be clear, tonight is not about politics. No, tonight is about purpose.
Yes, tonight is about empathy, solidarity, and compassion; the associated values of the left, but it is also about responsibility, self-reliance and hard work, the associated values of the right."
Then he brings it back to the spirit of giving and again, that emotional connection!
A very clear CTA
"Tonight, you can give in three ways. Text the number on the screen if you wanna give." Click that donate button. Go to this specific website.
He makes it SUPER clear how to give to the fundraiser, leaving no room for confusion.
To Sum it Up, Y'all
This is a gosh-darn-excellent pitch, and watching successful fundraisers is a great way to learn about how to craft your own pitches, because the stakes are high and the budgets are large so they can hire the best writers.
I recommend tuning into some fundraisers if you wanna get better at pitching.
---
PS- McConaughey's closing speech at the 2 hr 9 minute mark is also chef's kiss.
PPS- Post Malone covers country music at the end of the fundraiser and it's so weird, but it oddly works?